Lately, I've been fielding quite a few calls from parents with either a newborn or a toddler looking for college education planning. Two of the most frequently asked questions are – "How much will it cost?" and "How much do we save?" Being a parent myself, I can deeply empathize. I am deep in the weeds preparing and planning for the various options from public to private and in or out of state universities. 
For most parents, a child's college education is their top five most expensive purchase they will ever make in their lifetime. For those who wish to estimate the cost of a college education, the following tables can facilitate an educated guess.
Checking the statistics
According to The College Board's Trends in College Pricing 2018, the average annual cost of in-state tuition, fees, room, and board at a four-year public institution is $21,370 for the academic year 2018–2019. For a private institution, the cost of tuition, fees, room, and board is $48,510. Both public and private colleges and universities experienced an increase of nearly 3% (2.8% for public and 3.2% for private) from the prior year, 2017–2018. Although the average tuition increase at private four-year schools is 3.3%, many students in this sector attend institutions with tuition increases of between 3% and 6%.
If the cost of a college education increases by 6% annually, and your child enters a private college in the 2035–2036 academic year, the estimated tuition will be $57,544. Based on the projections, a four-year education would cost approximately $230,176. For young families, skyrocketing cost projections can lead to sticker shock, but there are strategies that can help you keep pace with tuition hikes. The College Board reports that almost 75% of undergraduate students receive some type of financial aid. In addition, the Federal government offers tax breaks for education savings, as well as other credits and deductions for taxpayers currently facing college costs.
How Much Do You Need to Save?
Use the table below to estimate the approximate annual cost of tuition, as well as room and board, for a four-year undergraduate education based on the year a child will enter college, the inflation forecast, and the choice of a public or private institution.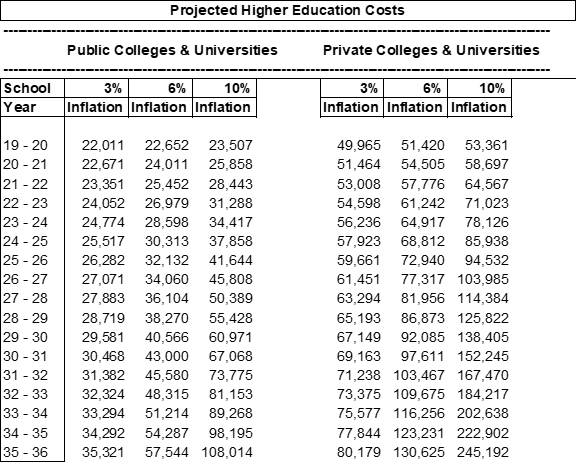 Take Action
By starting a disciplined savings plan now, you may be better positioned to meet your child's future education needs. The following table shows the return of a variety of monthly savings contributions, earning 6% interest, for intervals of 5, 10, and 18 years. (Assumption: you are starting from scratch)
*For illustrative purposes only. Not indicative of any particular savings vehicle or insurance product.
Many parents may feel overwhelmed by the daunting task of planning for education funding, or think that saving the required amount of money will severely compromise their current lifestyle. While these are legitimate concerns, they should not stop you from establishing and maintaining an effective college funding plan. Whether you are considering a public or private college education for your child, the key to effective planning is to begin saving as early, and as much, as possible.